Members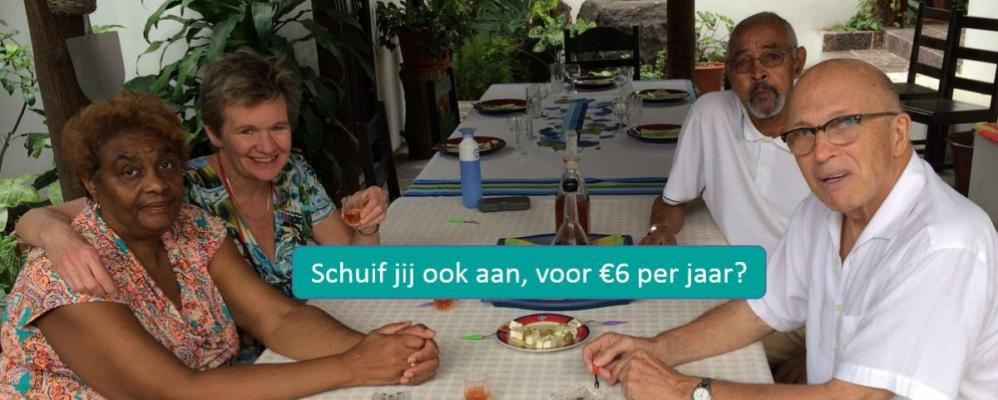 Do you have room in your home and in your heart?
Everything on this platform is aimed at face-to-face meetings between members, at your place, around the corner, 200 km away in the country, or somewhere abroad. Members are hospitable couples and singles with room in their homes and in their hearts. Read what other people say about ConnectingFriends...
As a member of ConnectingFriends you pay € 6 a year. This is what you get:
you meet other members, where and when you want to
together with the other members, you support projects that make our world a bit more beautiful
you save eachother the costs of meals and lodging
Who wouldn't love this? Nothing but benefits, for yourself ánd for others.
ConnectingFriends don't pay each other
The platform offers you plenty of opportunities for surprising and cosy meetings, and fascinating conversations with other hospitable members. It's all about true hospitality, so you do not pay each other for meals or lodging. Meeting others is core.
It doesn't matter whether you travel by car, bike, train, plane, foot or boat. It doesn't matter whether you travel for personal, recreational or business purposes. It's all about meeting others and enhancing your social network.
Are you a 'connectingfriend'?
If you wonder whether this platform is for you, than have a look at this list of 'characteristics'.
For example, if you
are really open to new social contacts
enjoy having others over for dinner
appreciate people and their ideas more than material stuff
like to support projects that make our world a bit more beautiful
treasure the memories of coincidental meetings with others, anywhere in the world
spend the night elsewhere at least a few times a year, for business, personal or recreational reasons
not always enjoy the regular, commercial, dinner and lodging accommodations
don't feel the need to make money from a spare bedroom
the odds are that you will really enjoy ConnectingFriends. Don't hesitate any longer. Subscribe as a member.
Become a member
Are you open to meetings, do you want to save money and contribute to the projects? Then sign up. Use the green-blue 'Register' button at the top of this page. Do you want to know more first? Then go to 'Membership'.
The FAQ list also offers answers to a long list of practical questions. And of course you can always send us a message.